Stunning pink-haired fashion blogger Amy Valentine is without a doubt the next in our #HQGirlCrush series! Here in the HQhair office we're incredibly jealous of her rosy hair and sassy style, could she get any more stunning? Her quirky music taste and passion for festivals can only make us love her even more!
Who is Amy Valentine?
After discovering the blogging community in 2011, Amy Valentine dived into creating a fashion blog where she could express her love for style trends and beauty products. Regularly updating her blog, Amy always keeps us updated with her pretty, pink and punk lifestyle, we're extremely envious!
Along with her super style savvy updates, Amy is forever informing us about the latest and greatest music festivals. Of course, she also keeps us in the loop with all her little fangirling moments… *queue the My Chemical Romance fans* how can you not love her?!
Top 3 Amy Valentine Looks
PRETTY IN PINK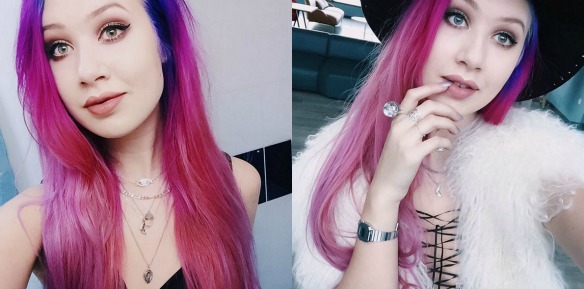 Including her signature cutesy eyeliner flick, this super cute girly look is one of our absolute favourite Amy Valentine styles. Our number one choice eyeliner to recreate this is the Lord & Berry Forever Black Liquid Eyeliner in Black. (Check out our #HQHowTo : Winged Eyeliner to perfect it!) To achieve the gorgeous pink shade on your lips, try the Maybelline Superstay 24HR Lip Colour in Delicious Pink. Not only does it have amazing staying power with no smudging or fading, your lips will be luscious and full of colour!