Lately we've been feeling the intergalactic vibes floating around the office in anticipation for the new Star Wars movie… It's been inspiring everything from our Instagram to limited edition beauty swag! Unable to bear the thought of anyone missing out on the spacey action, we've created all the cosmic inspiration to fulfil even the most out-of-this-world dreams! Get your know-how on galaxy nails here at HQhair!
Pastel Cosmos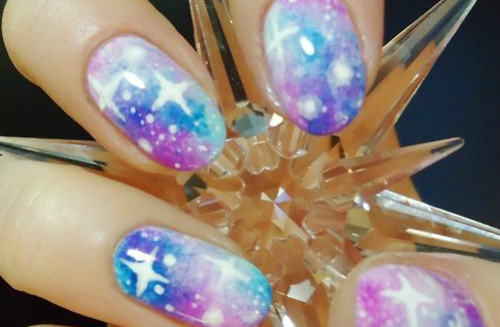 A personal favourite of ours that always makes its way into our hearts is pastel colours! Pastel Cosmos Nails are perfect for both celebrating the spacey craze and brightening your day during the wintery blues. This particular style is super easy to do too! A quick base colour using a bright white polish should be applied to brighten the nail. Following this, dab on sections of pastel coloured varnishes with a damp make-up sponge. Add a few white starry details with a toothpick or dotting tool for the finishing touches and BAM!  You're now guaranteed to be feeling like a sassy space queen!
Water Marbled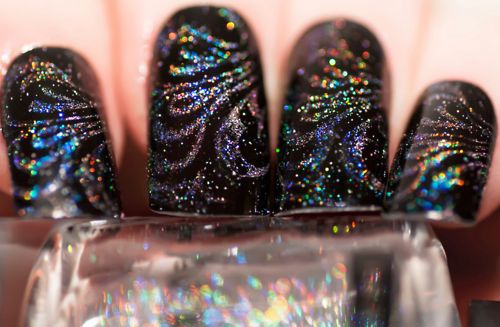 Even though this method to create galaxy nails is quite messy, the results are stunning and it's totally worth it! The best part about this is you can switch it up to create so many awesome styles and every nail will be unique!
Apply a black base colour and fill a cup or bowl with water. Using a clear polish and a glittery varnish, add drops to the middle of the bowl; alternating colours and waiting for the colour to spread out to create a film. Now it's time for the creativity to begin! Lightly drag the colours to your desired pattern with a toothpick and dip your nails directly on to it…You can either clean up with some nail varnish remover or put some tape around your nails before dipping to peel away the excess  from your fingers quickly and easily. Bonus – Water Marbled Nails dry super-fast so there's no waiting around!
Glittered Galaxy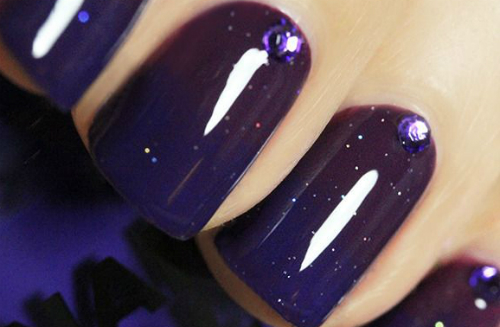 There is no way we could have galaxy nails inspiration without glitter…so the Glittered Galaxy Nails are a perfect addition! The possibilities are endless, yet our favourite is this classier version with light sparkle and an ombré effect to transport your nails to another planet! Paint half of your nail with one shade of purple and add a lighter shade on the other half. Use a brush or a sponge to blend the colours, stick a cutesy gem near the nail bed and finish with a light glitter coat for extra starry sparkle!
For some extra staying power for your galaxy nails; try the OPI Chip Skip Manicure Prep Coat before painting them and add a layer of Bourjois 1 Second Top Coat to keep your nails looking fresh, starry and chip-free!