With so many beauty products landing on my desk daily, it takes something special for me to sit up and listen. However new brand BOD or Body On Demand as it's less commonly known, achieved just that. Not only is their product range housed in luxurious matte gold packaging, it also claims to fix the one problem each and every one of us women suffer with on a daily basis. Yes, you guessed it: bloating. While none of their three products will actively reduce your dress size, they will rid your body of excess water and stubborn toxins. So, if you haven't yet got this game-changing range on your party prep list, read on…
what is BOD?
Born from the desire to make every woman look and feel confident in their own skin, Body On Demand combined their wish with science-savvy technology to bring effective body solutions to the home. Inspired by a community of body-loving women, this newly born brand understands that demanding lifestyles often lead to less time in the gym.
How does it work?
Working to a simple three-step philosophy, Sweat, Sculpt and Control, Body On Demand offer 100% natural and cruelty free solutions for a number of bodily concerns.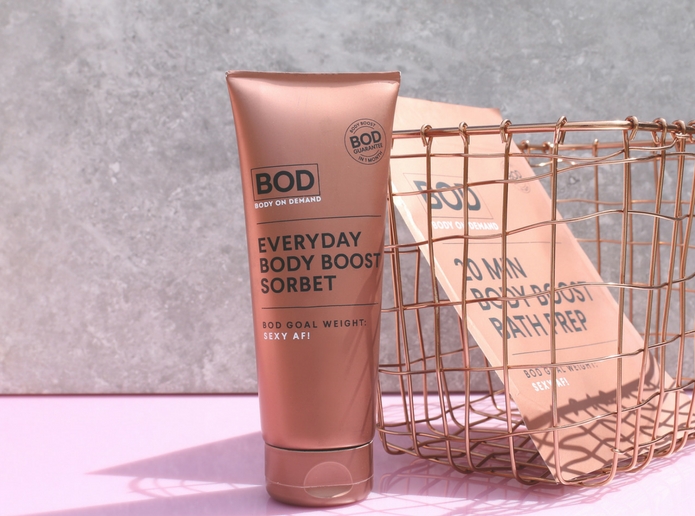 Sweat: Adding BOD 20min Body Boost Bath Prep to your bath helps to naturally drive out excess water and toxins from the skin through diffusion; a process which naturally happens when your body is submerged in hot and highly concentrated solutions. By bathing for a minimum of 20 minutes, you can eliminate anything up to 3lb of unnecessary water retention! Win!
Sculpt: Sculpt your silhouette with BOD Everyday Body Boost Sorbet and effectively smooth away cellulite and fine lines. Containing a mix of natural sugars and two key ingredients that work to tone, sculpt and define your body, this unique formula works to reshape your body contour by up to 2cm.
Control: Working to aid your digestive system, BOD's Body Boosting Supplements contains a natural, high fibre super ingredient that works by absorbing excess water in the body, making you feel fuller for longer. Scientifically shown to positively lower cholesterol and slow down digestion, this innovative treatment effectively reduces that dreaded bloated feeling.
The Products: