Bold brows are big everywhere this season, whether it's on the catwalk or in the magazines! We all love Cara Delevingne and her superb eyebrows, and more and more models seem to be opting for the full but still natural look.
Top Tips For Filling In The Perfect Natural Eyebrows
Choose your shape, find a shape that will suit your face and brow arch.
Follow the guide lines created by your face. The eyebrow should start in line with the beginning of your eye and the side of your nose. Finishing at the end of your eye angled out from your nose (As seen below)
Go bold, but don't over do it. Use a colour similar to your natural hair colour, or one shade darker.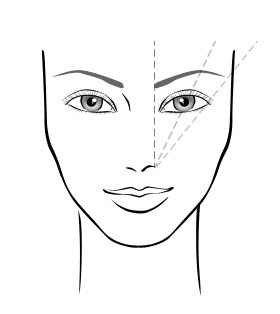 Moving away from the over pencilled and overly contrasting brow, we think girls are finally getting it right when it comes to creating the perfect natural eyebrows. Take a look at our top 3 favourite products to help you achieve the perfect bold natural eyebrow.