Bold lips and super defined features mixed with killer vocals and meaningful lyrics can only mean one person- Lana Del Rey. This stunning indie pop and psychedelic rock singer is the latest in our #HQGirlCrush series with no regrets. This sassy lady can pull off even the most sophisticated make up looks and still manage to add flare with an edgy aura!
Who Is Lana Del Rey?
Elizabeth Woolridge Grant, better known as Lana Del Rey, recently emerged onto the scene in 2012 with the release of Born To Die. Influenced by film noir and poetry, her lyrics are deep and meaningful with masses of room for interpretation.
Not only does Lana Del Rey sing, she also writes her own music and to no surprise with her stunning looks, she also models. Lana was featured in two campaigns for H&M and endorsed the Jaguar F-Type, this super-chic is unstoppable! Her complexion is flawless enough to make anybody envious so here at HQhair we decided to give you some top secret tips to achieve her sultry, glamorous look.
Top Lana Del Rey Looks
Sophisticated Class With A Twist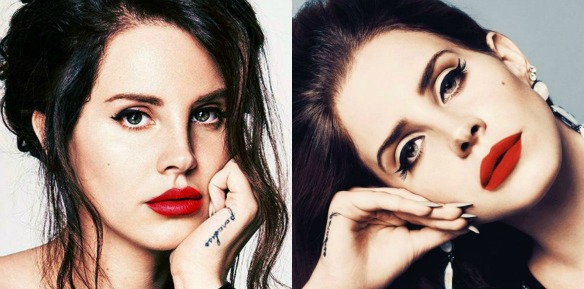 You'll often see Lana Del Rey sporting a bright red pout and exquisite eye liner flick. Despite this style usually creating a fiery vibe, Lana gives it an edge of sophistication and class.  Define your best features and perfectly cast shadows on your insecurities with Maybelline Master Sculpt Contouring. Achieve the precise eye liner flick with Daniel Sandler Black Velvet Waterproof Eye Liner and finish by sweeping on some Rimmel Moisture Renew Lipstick in Mayfair Red Lady. This lip stick is perfect due to the moisturising rehydrating qualities as well as high pigmentation for bold shades without the drying issues caused by many lip colours. Easy to recreate and gives you the ultimate confidence you deserve!