Who said we need to keep our natural hair colour? Throughout the years, rainbow hair has become increasingly popular and the variety of styles has expanded. Everybody knows at least one person who braved the dye bottle and took the risk… are you brave enough? Here at HQhair we're exploring the colourful world of hair dye and put the trend on trial to give you some inspiration for a new look. If you're ready to switch up your image then we're here to spark your creativity with our top 5 favourite rainbow hair trends.
Top 5 Rainbow Hair Trends
We know our haircare (it's in the name, really), but it's all about your own individual style. If you wanna try out rainbow hair then take your pick of our fave colourful styles below.
Get The Look: Rainbow Mix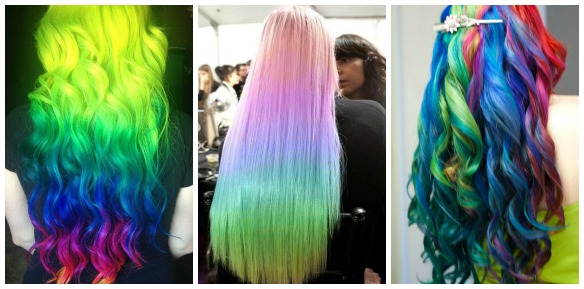 Rainbox mix simply mixes all colours of the rainbow. This is clearly great for those who find it hard to pick one colour and stick with it! Admittedly, this isn't a look for wallflowers, but if you want to make a statement with every single hair flip then this rainbow hair trend is definitely one for you.
Whether you prefer brights or pastels, select a colour palette to suit and compliment your personality. This is definitely a unique hair style.
Get The Look: Coloured Ombré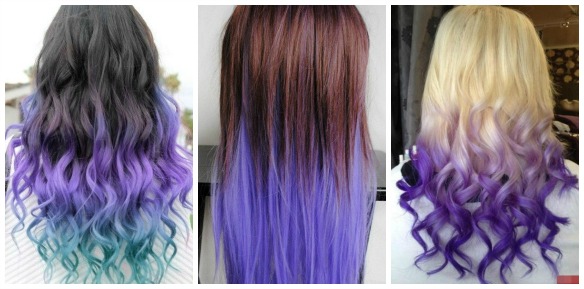 Instead of diving in and colouring every single strand, we love colouring the ends of your hair. It's also great to test out shades before daring yourself to dye the lot. You can either dye your ombré all one colour (see the photos in the middle and right), or go for a tonal option like on the ledt with multiple colours. Coloured ombré is one of our favourites, so be imaginative and mix it up!
Get The Look: Oil Slick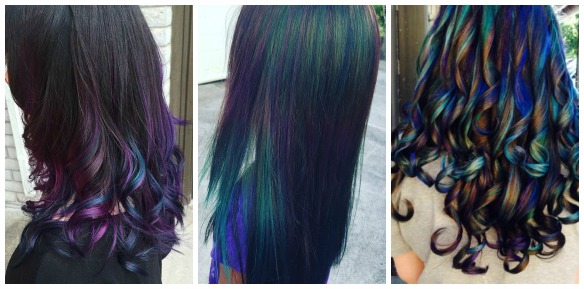 If you have dark hair and the thought of ruining your hair with tonnes of bleach to get a beautiful colour doesn't appeal to you then oil slick hair is the way forward. The dye pigments are designed to create an iridescent sheen from sitting on top of a darker base. Inspired by puddles of petrol mixed with rain, the 'petrol hair' trend is undeniably exquisite.
Get The Look: Two Tone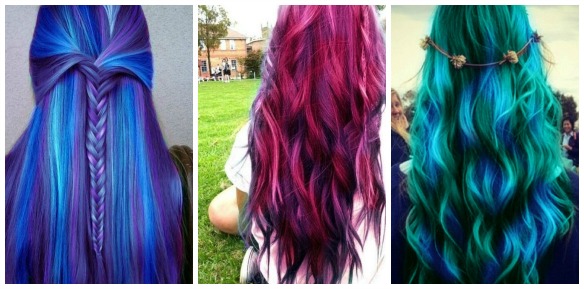 Loving a certain colour yet indecisive about which shade to choose? Don't fret because two tone hair is totally in and it's utterly gorgeous. It's the perfect way to mix it up and add more than one shade without the entire rainbow being present on your head. Bonus: it works with any colour you desire!
Get The Look: Pastel Hair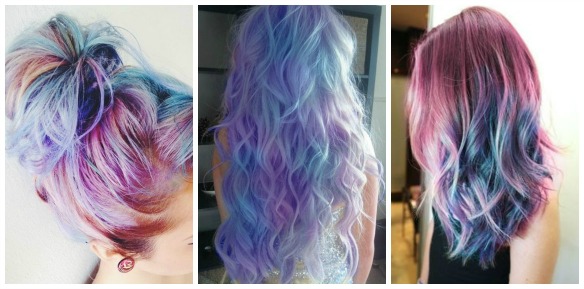 Our rainbow hair list wouldn't be complete without a shout out to pastel hair!
As you can take any colour and add a pastel hue to it, we're totally into this look as there are hundreds of varieties. The best part is you can concoct pastel hair from even the brightest of dyes by mixing with conditioner to lighten the colour before you dye. This ensures you can achieve whichever tone you admire.
Looking after Rainbow Hair Dye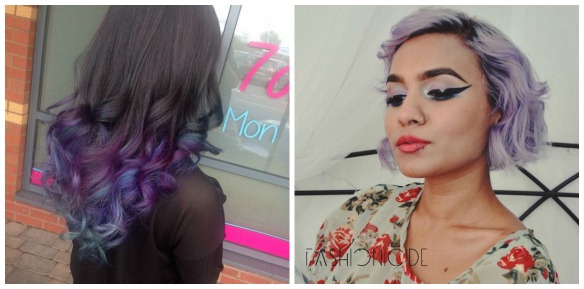 After you've achieved your desired look, ensure to invest in some trustworthy conditioner.
As pioneers in the haircare field, we love Kérastase. We recommend the Kérastase Densifique Bain Densité to restore moisture and help to maintain colour for longer.