With years of dermatological expertise behind him, Dr Nick Lowe has developed a worldwide renowned skincare range packed full of expert formulations and solutions for any skin type. From ranges targeted towards acne, rosacea and blemish prone complexions, to anti ageing and hydrating solutions, you can rest assured that you can rely on the passion behind the Dr Nick Lowe skincare range. Researching the latest innovations, Dr Lowe is also renowned as a pioneer in botulinum toxin research, leading many studies into skin problems and ageing. Bringing this advanced knowledge and expertise to your very own home, the Dr Nick Lowe skincare range is the effective solution you've been searching for to tackle your individual skin care needs.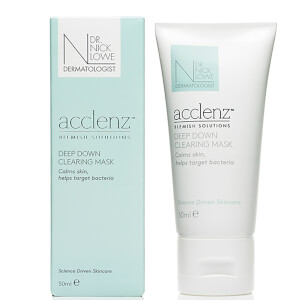 Dr. Nick Lowe acclenz Deep Down Clearing Mask 50ml
Save 30% on selected products
The discounted amount has already been taken from the RRP. Offer valid for a limited time only. 
Shop the offer