Wanna know a little bit more about OCC (AKA Obsessive Compulsive Cosmetics), the cult makeup brand that launched the holy grail product: the OCC Lip Tar? Well, keep readin' as we tell you all about the brand and their incredible products!
What is Obsessive Compulsive Cosmetics?
Obsessive Compulsive Cosmetics is a PETA certified, 100% vegan and cruelty free colour cosmetics brand. Founded in New York during 2004 by makeup artist David Klasfeld, OCC have a huge celebrity, MUA and blogger following… Once you get your hands on their products, it's easy to see why.
Although they are renowned for their Lip Tar, the range also contains a tinted moisturiser, concealer, loose colour eye shadow and cosmetic glitter. Read on to find out more!
What is OCC Lip Tar?
The OCC Lip Tar is the original liquid lipstick, loved for its ultra-pigmented formula, ability to be mixed with other colours and the longevity of its wear.
How To Apply OCC Lip Tar:
Due to it's intense colour pay off, you'll only need a small amount of product for a full coverage, yet natural and satin finish.
Step 1: Remove the wand and apply a drop of this product to the centre of your top and bottom lips.
Step 2: Using your finger, dab the product and blend it out, ensuring that your lips are covered.
Step 3: For a precise finish, clean up the edges with the OCC Precision Lip Brush.
OCC Lip Tar Shades:
With a range of bold and bright shades to choose from, there really is a Lip Tar for every occasion…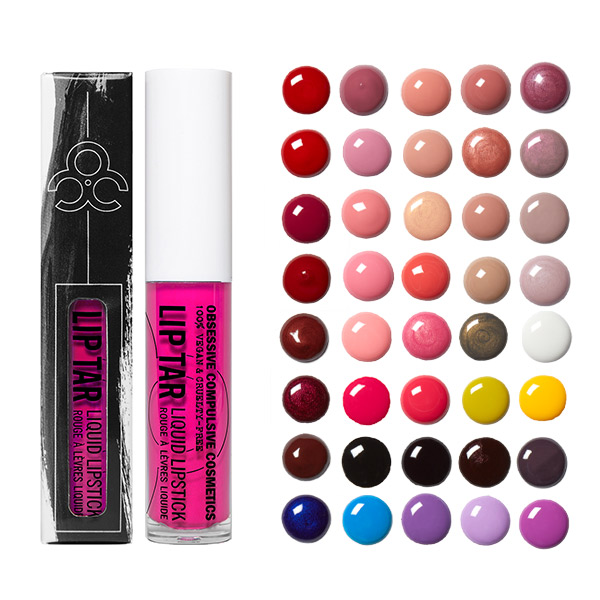 From grungy shades like Derelict – an olive gold shimmer, Stud – a greyed aubergine and Tarred – a deep black, to bright and bold shades like Anime – a bright barbie pink, Hoochie – an extreme magenta, RX – a cyan blue and Traffic – a primary yellow, OCC's extensive range of Lip Tar colours means that the brand caters for everyone. Don't forget to grab yourself one of the Lip Tar Primers too, so that you can make sure your lips stay nourished and conditioned ahead of applying your Lip Tar!