The #HQGirlCrush series isn't just about celebrities, it's about strong, successful and creative women who inspire us and lead the path for women to be who they want to be. It's about women who don't fit into one box, and who colour outside the lines and are proud of it. That's why Zoe London fits into our Girl Crush series so perfectly…
Who is Zoe London?
Zoe London is a beauty blogger based in, you guessed it…London. Well known for her ever-changing crazy cool hair and extensive list of press appearances including Kerrang, Company, Marie Claire and Vogue, this unique bundle of sassy success is a bold and beautiful role model.
Not only does she run her exceptionally popular blog, with segments on beauty, fashion, music, lifestyle, food, travel and more (which by the way has just relaunched and looks INCREDIBLE), this fabulous fashionista is also a DJ AND keeps a YouTube channel too – is there anything she can't do? On top of all this, she somehow finds the time to visit a large collection of music festivals like Slam Dunk and Reading – she really is the definition of superstar!
Our Favourite Zoe London Looks
Grungey Smokey Eye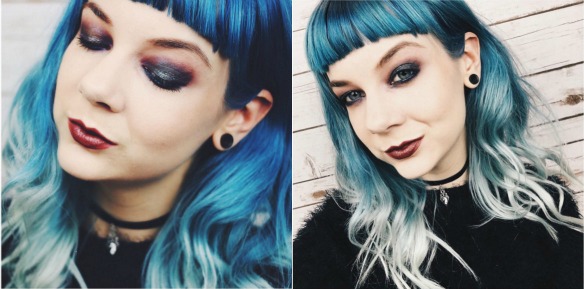 If there's one thing we know about Zoe, it's that she sure knows how to rock a smokey eye! Paired with a bold, dark lip colour to match with her unique playful hair colour, Zoe London really makes a daring statement making everyone envious of her ultimate style! To achieve this look, our favourite palette which also doubles for brows is the Make Up By HD Brows Eye and Brow Palette in Foxy. As Zoe's hair is so blue and colourful, keeping it well conditioned is key to ensuring longevity. If you want your hair to be healthy, shiny and well-conditioned just like hers, our go-to product is the Moroccanoil Intense Hydrating Mask.