This month, HQhair turns 18. Yep, that's right we're officially going to be an adult! So, we decided that we would celebrate with photo shoot with two of the hottest bloggers around right now: Heather, AKA sugarpea_  and Lima, who founded the blog Fashionicide. Technically, HQhair is a '90s baby (founded in 1999), so we took inspiration from '90s hair and beauty trends, meaning that the shoot was filled with lots of colour, lashings of glitter and of course, plenty of girl power!
On the day of the shoot, the mega babes from KMS helped us to create the most amazing hair styles, which we were completely obsessed with. So obsessed, in fact, that we decided to put together this blog post to help you recreate the looks! So whether you've got a birthday party, or perhaps you're just looking to experiment with a completely new style, you can find all the inspiration that you need right here on the #HQHUB.
GET HEATHER'S LOOK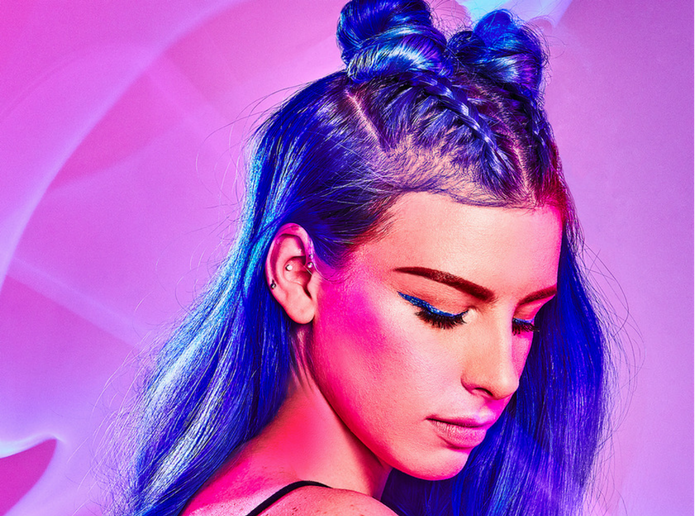 Heather's hair screamed party vibes! Her full, voluminous curls partnered with plaited space buns was enough to give us complete and utter hair envy… But not to worry, as you can get your hands on all of the products that were used right here on HQhair.
In order to recreate Heather's style for yourself, it is always best to start with a clean and fresh base. So, start with rinsing your hair and ensure that it is thoroughly wet before applying KMS' MoistRepair Shampoo. Concentrate on your scalp, lathering the product with stroking motions, then work the shampoo down to the ends of your hair. Once your hair is properly cleansed and revitalised, add KMS' Moisture Repair Conditioner to your freshly shampooed locks. This replenishing product will help to restore your hair's natural shine, making sure that your hair looks healthy and glossy!