If you're looking for a makeup look that screams party vibes, then you have just got to try glitter lips. Not only does this shimmery and shiny pout look super impressive, but it's also really easy to do, especially if you adopt the correct technique. Find out exactly how you can create your own glitter lips right here on the #HQHUB!
Step 1: Use your Bliss Fabulips Sugar Lip Scrub to prep and prime your pout! This will help to remove any chapped skin to leave you with silky smooth lips, allowing your lipstick to stay in place for longer.
Step 2: Apply your favourite lipstick and use this as a base (we personally love OCC's Lip Tar for this!) Make sure that you blot in between applications to prevent the glitter from sliding off.
Step 3: It's glitter time! Remember to choose your glitter wisely, we like to use OCC's Cosmetic Glitter due to the fact that it is relatively thin. This means that the lip won't look too theatrical, but the product's light-diffusing properties will ensure that it glistens and looks super glam.
Step 4: Once you've picked your glitter, then it's time to prep your flat eye shadow brush. Simply spritz the brush with the First Aid Beauty Vital Greens Face Mist + Setting Spray to ensure that that the bristles are slightly damp. This will help the glitter to stick.
Step 5: Press the damp brush into the glitter, making sure to tap off the excess before removing. Make sure that your lipstick is not completely dry to ensure that the glitter will adhere to the lips and dry simultaneously with the lipstick.
Step 6: Using a pressing motion, apply the glitter to your lips. Be careful not to drag or sweep the brush, which will smear the glitter. Reapply the product until you reach your desired look.
Step 7: Your glitter lips are complete! Make sure that you top up throughout the night and take hundreds of selfies.
Get The Look: Pretty In Pink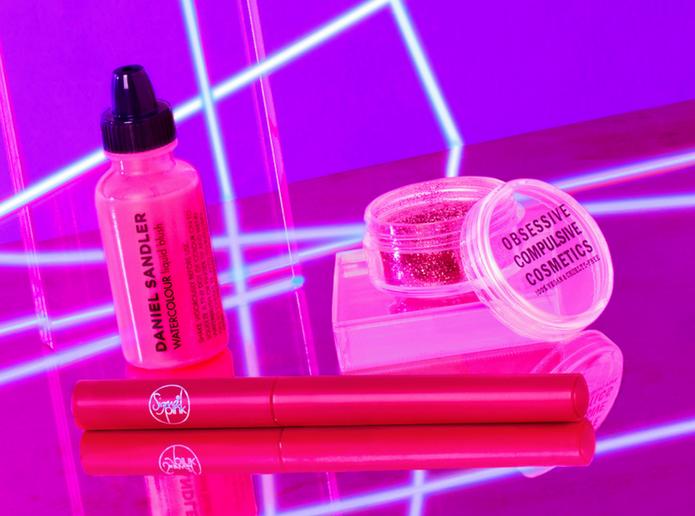 So, you've got your glitter lip technique perfected, but you're not quite sure what makeup you'd partner it with? Look pretty in pink and try Sigma's Line Ace Eyeliner in the shade 'Sigma Pink'. Simply add a slick wing on top of the glitter to add a cat-shaped effect. Finish off with Daniel Sandler's Watercolour Fluid Blusher in the shade 'Pink' for a subtle flush of colour.