Our favourite time of the year? Halloween has to be top of the list! There is nothing quite as exciting as dressing up as something totally crazy for a night and pretending to be someone else, whether you go for fantastically frightening, or something crazy cute! Our favourite spooky holiday is just around the corner, so we thought we'd find some of our favourite #HQScare Halloween Makeup Ideas and show you what we'll be using to recreate them! So get your makeup tricks and treats to hand and get ready to create some spellbinding looks!
#HQScare Halloween Make Up Ideas
Cracked Porcelain Doll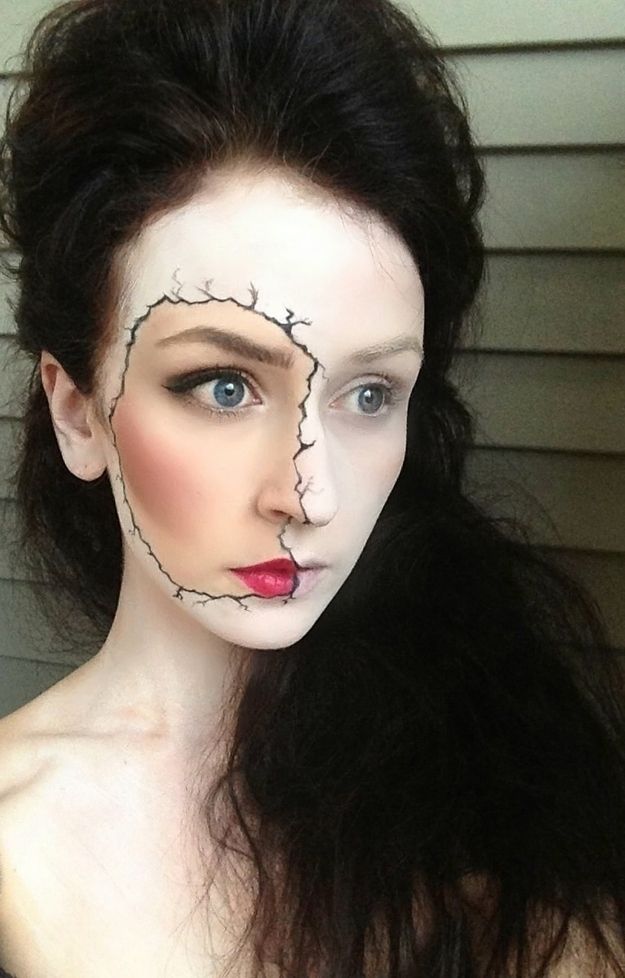 This cracked porcelain doll look is sure to turn heads and is super easy to recreate! Simply draw a rough outline with eyeliner of the area you want to be cracked, then apply foundation, eyeliner, blush, brows, mascara and lipstick to the area inside the crack. Once this is done, apply a white face paint and powder to the outside area, making sure to work into your hairline and blend down your neck well. Finally, add a little more cracked detail to the outline for a super spooky look! We recommend big backcombed hair for this look, and a tattered dress to really get into character! Set the hair into place using a strong hold hairspray.
Shopping List
Intergalactic Mermaid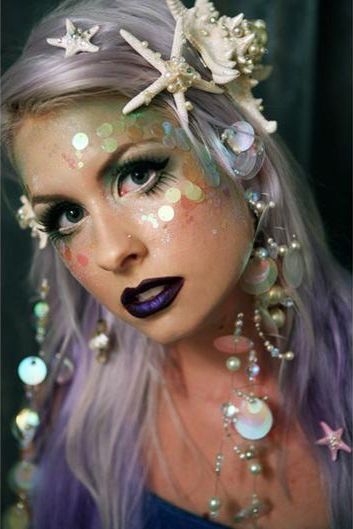 For something a little more show-stopping, we love this space-age mermaid look! Sure to make you stand out in a crowd, this look might seem a little more complicated and time consuming, but it's totally worth it! We're recreating by applying our base make up and brows first, then moving on to those bold eyes! We'll be smoking the eyes out with a green eyeshadow. The best part about this look is that you don't need to make the eyeshadow too complicated, as those amazing shiny sequins will be the focal point! After getting a base of eyeshadow on the lids, be sure to sweep it down under the lower lash line too. For this look we want flirty flick of eyeliner across the top lash line, extending about half way under the lower lash line. To make your eyes look even bigger, apply the liquid liner about half a centimeter below the lower lash line, and fill the lower waterline with white eyeliner. For added emphasis, add a set of false lashes!
To get that 'out of this world' glow, we suggest adding a little of the green eyeshadow to your forehead, sweeping outwards around the outside of your face in a C shape, as though you were contouring. Add some glitter for added spellbinding sparkle, and some sequins to really outshine everyone else! The final touch is those bewitching purple lips. Quick tip: dust some translucent powder over your lipstick to be sure it stays all night!
Shopping List
Bambi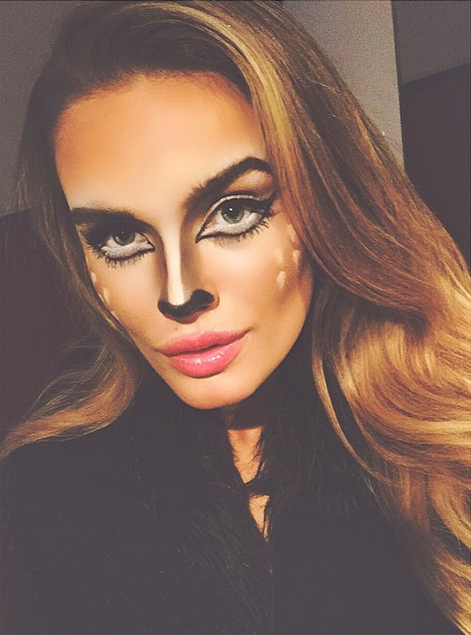 This is possibly one of the cutest Halloween make up ideas we've ever seen! British model and super babe Chloe Lloyd rocked this adorable look last year for Halloween, and now we're desperate to try it out! We'll be trying this after applying our base make up and brows by making sure we over-contour our cheekbones and forehead. Adding a highlight above the brows and down the nose will create more dimension to the face too. We're then going to use a black liquid liner to line our eyes and add in a cute little nose, and a black eyeshadow to create a stronger line either side of the nose all the way up into the brows. The final touch is a few dots added to the top of the cheek bones with concealer, and a sweep of pink lip gloss! Adorable!
Shopping List
If the bewitching looks above aren't enough to sink your.. fangs.. into, take a look at some pictures of the HQhair team getting ghoulish last Halloween!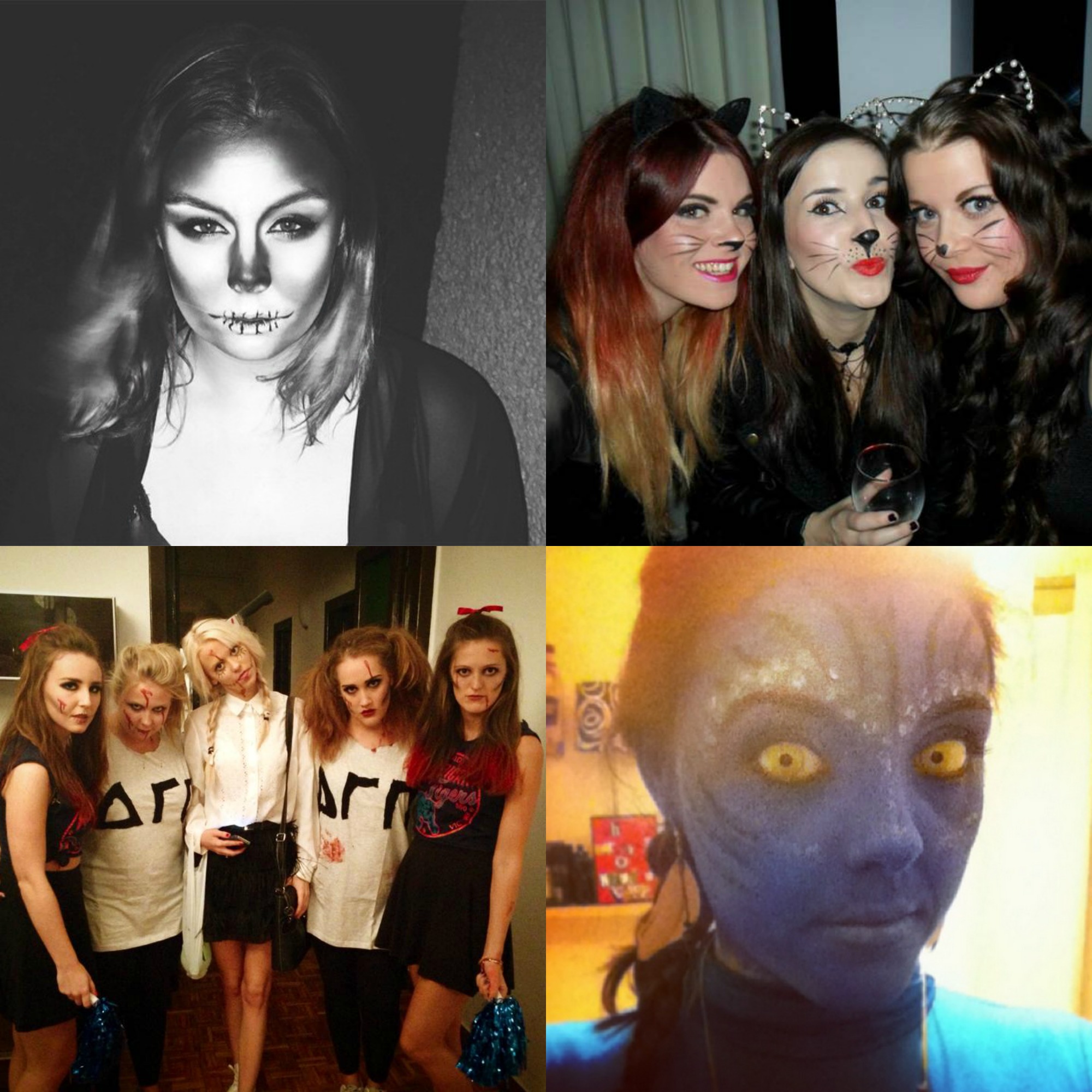 What are you dressing as this Halloween? Which of the above looks is your favourite? Let us know in the comments below and share your Halloween makeup using #HQScare over on Twitter & Instagram!
*Image Sources: Porcelain Doll, Mermaid