Our brand of the month for February is First Aid Beauty. This simple yet effective skincare collection was created to address those common skin challenges we all face over time but seem kinda hard to deal with. Whether it's a pesky blemish, dry skin, or an allergic reaction, First Aid Beauty has the solution, and they make it really simple to solve! With ranges for sensitive skin, dry and flaky skin, facial redness, oily and acne prone skin, and more, you're certain to find the solution to your problem with First Aid Beauty!
This month, everyone at HQ headquarters is talking about First Aid Beauty's new collection, Hello FAB. Free from artificial colours and fragrance, parabens, sulphates and alcohol, the Hello FAB collection is here to help enhance your complexion without causing irritation and to allow your makeup to go on smoother and last longer.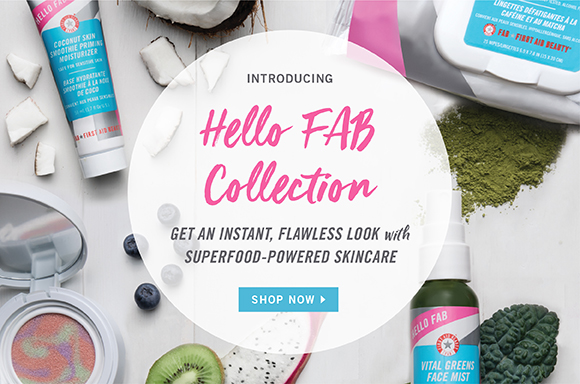 What is in the Hello FAB Collection?
We're glad you asked. First Aid Beauty's Hello FAB Collection contains four fuss-free, beauty-boosting products. They are basically skincare with makeup in mind, what more could we want?! Packed full with the nourishing power of super foods, each multi-tasking product revitalises and renews the appearance of skin for an 'all-day fabulous finish!'
Hello FAB Vital Greens Face Mist
Essentially, this facial mist is a boost of green juice for your skin. Formulated with a potent dose of leafy green superfoods such as Kale, Spinach, Cucumber and Spirulina, this alcohol free mist cools, refreshes, soothes, resets your complexion and locks your make-up in place all day.